Erik Johansson is a photographer and artist who creates the most incredible photographic composites. Here is one of his images:
A photo composite is an image created by combining elements of two or more images. Creating convincing composites takes imagination, tons of technical skill, and patience. Good composites are so cohesive that they make even the most unbelievable images seem possible. Bad composites look as though someone cut and pasted images from random sources into a mishmash collage.
Here is a composite that I did of my family at a vacation house last Thanksgiving:
As one of my first attempts at compositing I think it came out ok. But, there are a lot of technical issues that make it fall short of the incredible work of Erik Johansson. This photo would have been virtually impossible to capture in one shot. Having everyone do the things that bring out their personality all at the same time, lighting each person at the same time, catching the football in mid air, and the fact that my nephew Caleb wasn't even there would have made this shot an impossibility without compositing.
First I shot a High Dynamic Range photo ( a combination of 5 exposures at different levels) of the empty room. That became the "canvas" that I would "paint" each person into. Then I asked each family member individually to take their pre-determined place and pose in the room. I wanted to make sure no one overlapped to make it easier in post processing. Once they took their place I adjusted my lighting and took several shots to make sure I had what I wanted. Perhaps the most important aspect of shooting the scenes is to make sure the lighting is coherent. The orientation of the light, perceived light source, location and lighting levels have to be spot on to have a cohesive finished image. In this case I knew the light sources were both from overhead and from the television. I wanted the perceived light from the TV to stand out so I set up an off camera Canon 580EXII flash behind a shoot through umbrella directly in front of the TV for all the images except for the shot of my father who is standing where the flash was. For him I had to move the light closer to the camera which isn't ideal.
The football was shot as my son (on the left) threw the ball to my nephew (on the right) who was actually standing off of the sofa during the shot. When I shot my nephew he was in the scene all alone and jumping up to catch an imaginary ball. Both my son and nephew had to do some creative imagining to get their movements and directions correct for the final image.
Processing in Photoshop, this is where the heavy lifting comes in. I'm pretty good with Photoshop but compositing is an art all in it's own. The skills to do what Erik Johansson does takes years of learning and practice to be great at. I am obviously many years away from his skill level. What happens in processing is that each person must be masked into the image a layer at a time. Getting everything correct in-camera is essential in making this process less labor intensive. Variances in light levels, light direction, light color, contrast, color, brightness, differences in any or all of these things from layer to layer (person to person) can destroy the cohesiveness of the image. This can be especially evident in the area most susceptible to error, shadows. If shadows aren't included or if they fall in weird or different directions, if they have odd light levels or color casts it can severely detract from the cohesiveness and believability of the final product.
Entire books are written on the subject of photo compositing and it's prohibitive to get into greater detail here but a good starting point is the book "Photoshop Compositing Secrets" by Matt Kloskowski .
Here is how it's done by the best, Erik Johansson: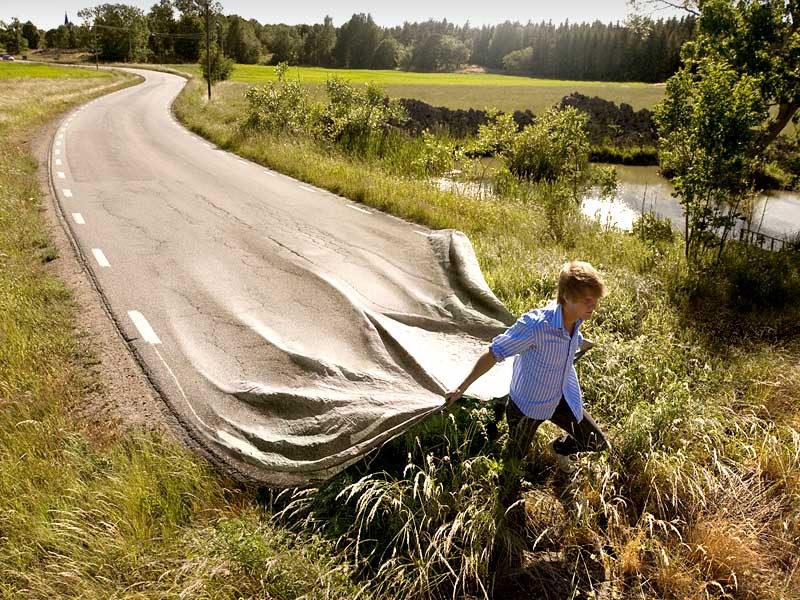 Please take the time to visit Erik's site, I'm sure you'll be as blown away as I am by his incredible work.